Sights & Sounds:
Backyard Bird Watching & Listening!
Let's get accustomed with the everyday songbirds in our backyard! You'll learn how they look, plus how they sound so that you'll be able to spot them once you get back to your own home. We'll focus on the spring migratory birds that are passing by or arriving at our region. No extra cover charge. Wine will be available for purchase by the glass/bottle for your enjoyment during the event.
Suggestions: Bring over your binoculars and books; smartphone apps are also helpful. We'll show you how to use them if you aren't familiar with them yet. The event will take place just outside of our Tasting Room (no vineyard tours). Lawn chairs and/or blankets to lay on will be convenient to your comfort. Rain or shine so get your rain gear handy when it's wet. However, if it's pouring or storms are expected, we may cancel the event. Follow us on Facebook or Twitter for the up-to-date information. Questions? Call or email us!
2023 dates (All are Sundays from 2 to 3 pm):
April 16
April 23
May 14

---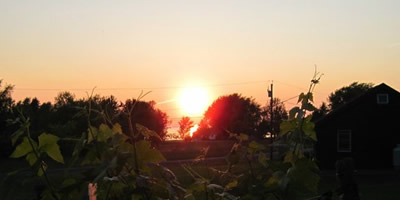 Sunset Tasting
We extend our regular Wine Tasting Room hours from 6 pm until sunset prior to Starry Starry Night events. Come and enjoy a casual wine tasting or a glass of our award-winning wines while watching the sunset over Lake Ontario.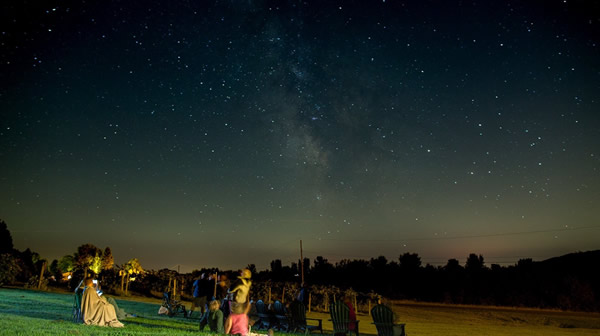 Starry Starry Night: Stargazing at Thorpe Vineyard
Starry Starry Night is an event for you to learn the stars and constellations. We ask that you bring your own chairs and/or blankets to sit/lay on the lawn outside the Tasting Room during the event. There is no cover charge to join the Stargazing. Please note that we don't conduct any winetasting once the talk starts; however, wine and snacks are available for purchase.
Learning the Stars & Constellations: Fumie Thorpe, the owner of Thorpe Vineyard, has a BS degree in Meteorology with a minor in Astronomy from SUNY Oswego. She hands out a star chart and talks about the celestial bodies overhead. She introduces some Eastern star tales she grew up with along with Greek/Roman mythology associated with the constellations we are seeing. Timely astronomical news and findings are also presented. When an International Space Station (ISS) flyby is anticipated, we'll take a break from the talk and watch.
Stargazing! See how many constellations you can find–-Fumie is there to guide you. Though actual stargazing is weather permitting, the talk will be held as long as there is an interest. We post updates of the weather conditions on Facebook and Twitter--so follow us!
Notes and Advice: Please dress appropriately--long pants and bug spray are good ideas. Sneakers or walk shoes/boots are recommended as the lawn will be likely wet from the dew. Bring over your binoculars and telescopes if you have and would like. Phone apps are a great tool to learn and find the constellations. Fumie can help you how to use them if you are not familiar with them yet.
Starry Starry Night events last about 1 ½ hour.
August 12 -- 8:40 pm
August 26 -- 8:20 pm
September 9 -- 8:00 pm
September 16 -- 7:45 pm
Feel free to call or email us with any questions.