Sights and Sounds: Backyard Bird Watching and Listening!
Let's get accustomed with the everyday songbirds in our backyard! You'll learn how they look, plus how they sound so that you'll be able to spot them once you get back to your own home. No extra cover charge. Wine will be available for purchase by the glass/bottle for your enjoyment during the event.
Suggestions: Bring over your binoculars and books; smartphone apps are also helpful. We'll show you how to use them if you aren't familiar with yet. The event will take place just outside of our Tasting Room (no vineyard tours). Lawn chairs and/or blankets to lay on will be convenient to your comfort. Rain or shine so get your rain gear handy when it's wet. We plan to have a pop-up tent when rain is expected. However, if it's pouring or storms are expected, we may cancel the event. Follow us on Facebook for the up-to-date information. Questions? Call or email Fumie!

Sundays, 2-3pm:
April 26 | May 17 | June 21
July 19 | August 16 | September 13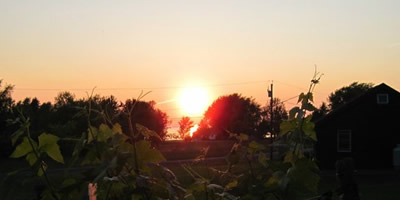 Sunset Tasting
We extend our regular Wine Tasting Room Hours from 6 pm until sunset prior to Starry Starry Night. Come and enjoy a casual wine tasting or a glass of our award-winning wines while watching the sunset over Lake Ontario. No extra cover charge.

August 15 | August 22
September 5 | September 19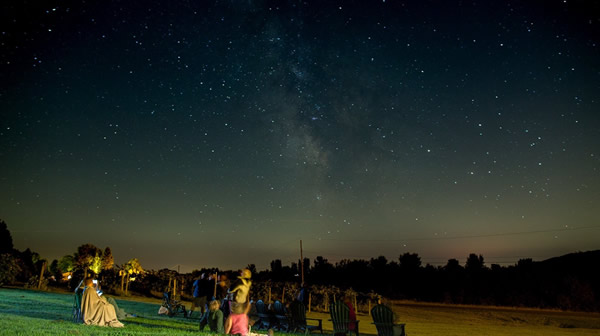 Starry Starry Night: Stargazing at Thorpe Vineyard
Learning the Stars & Constellations: Fumie hands out a star chart and talks about the celestial bodies we'll be visiting shortly. She introduces some Eastern star tales she grew up with along with Greek/Roman mythology associated with the constellations to be observed. When an International Space Station (ISS) flyby is anticipated, we'll take a break from the talk and go outside to spot it.
Stargazing! We then walk out of the Tasting Room to the backyard for actual stargazing. See how many constellations you can find! Fumie is there to guide you. Bring over your binoculars, lawn chairs, bug spray, blankets to lay on --- anything to have an enjoyable experience! Dress appropriately --- long pants and sneakers or walk shoes/boots would be necessity as the lawn will likely be wet from the dews.
August 15 | 8:40 pm - 10:10 pm
August 22 | 8:30 pm - 10:00 pm
September 5 | 8:00 pm - 9:30 pm
September 19 | 7:40 pm - 9:10 pm
Note: Starting time varies as the sun goes down at a different time each day. It is expected to last about 1 ½ hour. There is no cover charge to join the stargazing. We don't conduct any winetasting once the talk starts; however, wine is available for purchase by the glass/ bottle to accompany you. Though actual stargazing is weather permitting, the talk will be held as long as there is an interest. Any questions? Just ask us!